Today's post from Anson Sexton is part of the blog series Discipleship: Re-Imagining Our Calling From Christ. To receive future posts from the series in your inbox head HERE. Engage with the writers and community of readers using the hashtag #DiscipleshipBlog.
—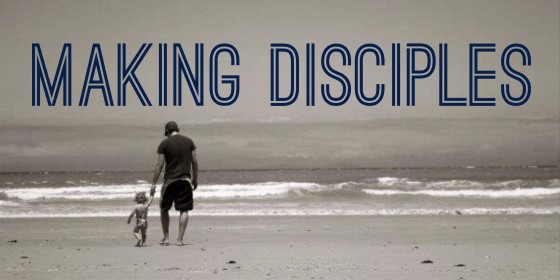 Jesus came and told his disciples, "I have been given all authority in heaven and on earth. Therefore, go and make disciples of all the nations, baptizing them in the name of the Father and the Son and the Holy Spirit. Teach these new disciples to obey all the commands I have given you. And be sure of this: I am with you always, even to the end of the age." — Matthew 28:18-20 NLT
"I have been given all authority… Therefore, go and make disciples…"
As followers of Jesus, we're called to make disciples.
It's not a suggestion or an idea that we gravitate towards. Jesus proclaims that all authority has been given to Him, and with that authority He commands us to make disciples. Our marching orders are clearly communicated by Christ… yet, are we listening?
I serve as an associate pastor at my church. I work directly with our student ministry. It's  easy for me to coordinate events, play games, feed them pizza, and inspire our students to make better choices in life. The rubber really meets the road when ministry is boiled down to discipleship.
All of the activities, food, jokes, and encouraging advice build equity with regards to the influence I have with our students in the hope of discipling our young men & women to follow Jesus. Even more so than the things that we do to influence others, its the heart we have driving our motivation that truly helps us to effectively make disciples.
Dallas Willard once said we must be "permeated with love" if we're going to successfully disciple those in our circle(s) of influence. Willard reiterates the greatest command that Jesus gave us, "love God & love people". When that is the source of our actions & attitude, it becomes increasingly difficult to deny the reality of Christ in your life & the compelling call to follow Him.
"…baptizing them in the name of the Father and the Son and the Holy Spirit."
If we're going to baptize prospective disciples in the name of the Father and the Son and the Holy Spirit, it takes more than just a tank of water and a modest bathing suit. To be baptized means we're fully immersed. We transition from conversion to immersion.
In terms of our relationship with God being like food, Jesus is no longer a condiment that you add to the meal of life. He isn't a unique side dish that you consume on special occasions.  He's the main course. Every appetizer & dessert revolves around Him. Every morsel that comes across your plate flows from Him being the key ingredient to everything.
Being baptized means that we 'go public' with our faith in Christ. Making disciples requires encouraging followers of Jesus to totally take the plunge & embrace God's will for their lives — inviting God to have His way with the details of your day. Disciples of Jesus accept and assist in spreading the good news of the gospel. We do that in both word & deed. We can't separate the two from each other. They go hand in hand. Yet, we must be equipped if we are going to be a disciple — let alone make disciples.
"Teach these new disciples to obey all the commands I have given you."
The apostle Paul wrote to the church in Corinth, "…imitate me, just as I imitate Christ." He also wrote in the book of Romans, "…faith comes from hearing, that is, hearing the Good News about Christ." It is imperative that we exhort others to follow Jesus through the inspiration of our example in conduct, as well as speech.
The way in which we teach new disciples to obey flows from the example of our own obedience along with the ability to explain the reasoning behind our obedience. Our knowledge in the Scriptures doesn't have to be that of a Yoda-esque Jesus following Jedi… but as we continually delve into our bibles, God's Word will not return void. The truth of His gospel will leak outta us like a well-tested, yet faithful, automobile.
"And be sure of this: I am with you always…"
The glue that holds all of this together & makes discipleship possible is Jesus. As He has ascended back to heaven, He sends the Holy Spirit to reside within our hearts & never leaves us. We are empowered by Him, so we can accomplish His will & purpose for our lives.
As we step out in faith to encounter people for the sake of the gospel, God is with us. Nothing can stand against Him who gives us power to take part in His work to make disciples. We are merely vessels filled with His Spirit living out the good works that He has prepared for us.
All in all, as I live my life and serve God, my hope is that I would successfully lead my wife, daughters, students, and peers in the way Jesus would have them draw closer to Him. Discipleship is the means in which I do that. Discipleship can be easily overlooked, or even sometimes forgotten, but we're called to make much of Christ & do so by making disciples… discipleship is more than being a mentor or a coach. Discipleship is the path we travel on course to an eternity with our Savior.
—
Anson Sexton lives in Lake Forest, CA with his wife, Joy, and their three daughters — Emerson, Reese, and Frances. He is currently writing his first book & regularly blogs at ansonsexton.com.