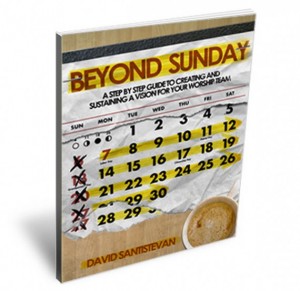 I've been reading David Santistevan's blog for a while now. He focuses very well on worship and leading worship in the local church on his blog. I've found it to be a good space to be challenged and to process some of my triumphs and struggles as a worship leader.
This week he put out his first e-book and I think it will be a valuable resource for many of you. The title of the e-book is Beyond Sunday. He describes it as a "step by step guide to creating a sustaining a vision for your worship team" that helps us move our worship ministries beyond something on just Sunday morning. It's a thought that resonates a lot with me. Sundays are relentless, they come very week, and they sure are easy to get bogged down in. It's a never-ending cycle.
Having read a good portion of the book already, this is one of my favorite parts:
"The truth is, I'm not called to leave the local church, but to serve it. I'm not called to display my artistic brilliance, but to foster it in others. I'm not called to deal with or put up with anything, but to disciple, envision, raise up, and release others to carry the torch."
If that idea is something you are challenged by I hope you'll take time to grab the free book (it's nice and short) to start thinking through what that could look like in your context.
You can grab the book here, for free.