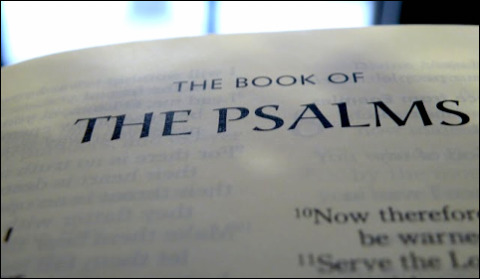 This summer I've been slowly making my way through the Psalms during my time of morning reading and prayer. My reasons for why are easily summed up by Dietrich Bonhoeffer who said, "Pray the Psalms whether or not they express adequately what you feel. It may be necessary to pray contrary to your feelings."
I've found praying the Psalms to be a breath of fresh air as I've faced some trying circumstances over the past few weeks. Hard conversations, tough situations among people in my church body, and a sermon focused on a subject that carries a lot of baggage for me personally.
On top of this I went away for a week, only to come back with the usual extra work from being gone. And we bought a house; closing later this week. Whew! An incredible blessing, with an exorbitant amount of work leading up to being able to call it home.
Some of you may have noticed it's been silent on this space for several weeks. I believe it's the longest break from blogging I've ever taken in the 7 years I've written here. I'll be back once life settles down and I can see the floors in our home, instead of boxes.
For now I'll leave you with pieces of the Psalms which have provided immense peace and comfort for this weary traveler. I pray they bring you the same.
Psalm 28:1-2
To you, Lord, I call;
    you are my Rock,
    do not turn a deaf ear to me.
For if you remain silent,
    I will be like those who go down to the pit.
Hear my cry for mercy
    as I call to you for help,
as I lift up my hands
    toward your Most Holy Place.
Psalm 20:7-9
Some trust in chariots and some in horses,
    but we trust in the name of the Lord our God.
They are brought to their knees and fall,
    but we rise up and stand firm.
Lord, give victory to the king!
    Answer us when we call!
Psalm 32:6-7
Therefore let all the faithful pray to you
    while you may be found;
surely the rising of the mighty waters
    will not reach them.
You are my hiding place;
    you will protect me from trouble
    and surround me with songs of deliverance.
Psalm 18:6-7,16-19
In my distress I called to the Lord;
    I cried to my God for help.
From his temple he heard my voice;
    my cry came before him, into his ears.
The earth trembled and quaked,
    and the foundations of the mountains shook;
    they trembled because he was angry.

He reached down from on high and took hold of me;
    he drew me out of deep waters.
He rescued me from my powerful enemy,
    from my foes, who were too strong for me.
They confronted me in the day of my disaster,
    but the Lord was my support.
He brought me out into a spacious place;
    he rescued me because he delighted in me.