Today's post from Hannah Anderson is part of Hinneh: a blog series on vocation and calling. If you'd rather read all the posts from the series in a short ebook, the writers have generously made it available for free. You can download a PDF copy here, or downloads in Epub (most tablets/e-readers) and Mobi (Kindle) formats are available as well. To receive the rest of the series in your inbox, sign up here. 
—
If you wandered through the Laurel Highlands in southwestern Pennsylvania, you might stumble upon one of the United States' greatest cultural treasures. Today there is a visitors' center, a parking lot, and a gift shop, but if it were seventy years ago, you might not even notice the structure until you were directly in front of it. Once you do, you'll see that this multi-level building uses clean lines and natural building material to blend into the wooded hillsides that surround it. Wander a little closer and you'll see that the house is actually—and ingeniously—built over a stream of water that cascades into a pool just beneath it and gives its name: Fallingwater.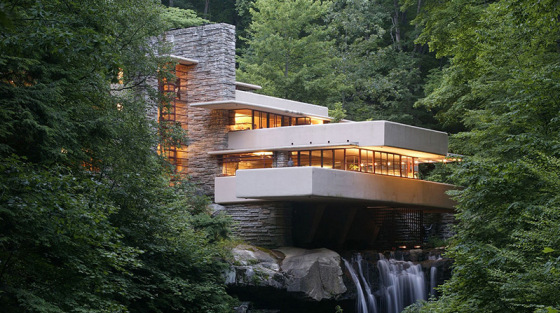 In 1935, Frank Lloyd Wright designed Fallingwater as a vacation home for Edgar Kauffman, Sr. The house was meant to be an escape from the modern world and the dense coal smoke that hovered over the Kauffman's home in the industrial city of Pittsburgh. Because Wright subscribed to the theory of organic design, he believed form and function—how a thing is used and how it is shaped—must be integrated; or as Wright put it, "Form and function are one."  So when Wright designed Fallingwater, he attempted to make it an outgrowth of its natural environment. The result was a building that not only served its purpose as a vacation home, but today stands as a work of art, drawing more than 150,000 visitors a year.
What Wright understood is that the use of something is intrinsically connected to the way it is made. The purpose of something shapes it. But the reverse is true as well. The shape of something reveals its purpose. We see this in nature in everything from the hummingbird's long beak to the duck's webbed feet. We even understand it in objects.
But what about in ourselves? What about our own sense of calling and purpose?
When we think about how God made human beings—even to the details of our physical bodies—we can see instantly that God Himself subscribes to the theory of organic design. And yet, how often when we talk about calling or vocation, do we talk about it as if it were something apart from us? We talk about "calling" as if it were something that we must pursue in order to fulfill our identities, rather than it being something that flows naturally from them.
The truth is that your purpose reveals itself through the shape of your life; your calling reveals itself through the details of your identity. At the most basic level, you are made in God's image, and you are called to reflect and represent Him. Because you are an image bearer, you are called to be like Him by doing what He does—to be loving and gracious and life-giving because He is loving and gracious and life-giving.
But beyond this, when we think about our individual callings, we cannot divorce our sense of purpose from our individual identities. To do so is to deny God's providence and sovereign design. When God made you in your mother's womb, when He placed you in the membership of His body, He did so with intention and purpose. So whether you work as a baker or mother or mathematician, you cannot escape the fact that this calling comes directly from the details of your life. This calling comes directly from your Creator.
So the next time you worry about finding your purpose, look at how you are made. Look at what your heart loves to do. Look at what is in front of you and what surrounds you. And when you do, you'll most likely discover that your calling fits as naturally with these things as Fallingwater does with the hills of southwestern Pennsylvania.
Hannah Anderson is the author of Made For More. You can find her at sometimesalight.com.