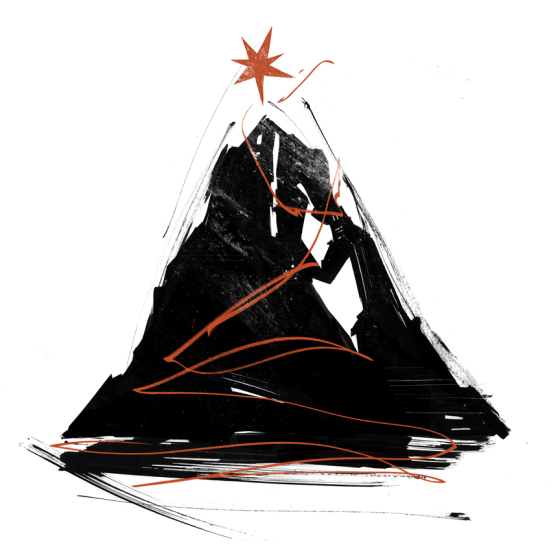 In his book The Face of the Deep, Paul Pastor makes a striking comparison between Isaiah's unclean lips and the touching of the Spirit upon the mouths of those at Pentecost in Acts 2.
I've only ever known emphasis on the Holy Spirit's coming at Pentecost to divide Christians. At a Pentecost Sunday church gathering many years ago I remember a pastor explaining to the congregation he was going to wait in silence until the Spirit showed Himself through a sign. I nearly walked out, but I thought that would probably be as ridiculous as whatever the pastor was doing.
What Paul Pastor invites his readers to do is to consider how this event of the Spirit poured out at Pentecost fits within the larger Bible story. He begins with a focus on Isaiah 6:
"Isaiah's fear and healing did not come to his eyes nor to his hands, feet, mind, or even his heart. The prophet was terrified in the presence of the Holy One because his mouth was dirty, backward, unclean.

And his cleansing came when his lips were touched by the fire of God." (pg. 213)
Then comes this connection between the Tower of Babel's scattering of the people through language, the unclean lips of Isaiah, and the fire of the Spirit seen at Pentecost:
"Pure speech in the Spirit is love, given whatever voice is best suited to the situation, to the hearers…

Pentecost seen this way, becomes more than just a happy arrival. It is part of a huge human story that stretches from a half-built tower on the plain of Shinar to you and me, the chosen of God yet scattered across the world…

The Spirit teaches us to speak as he did, to speak with love, pure and true as fire." (pp. 216-217)
I commend Pastor's work in The Face of the Deep to you. I see it has a needed corrective to understand the expansive work of love from God's Spirit beyond the typical debates that rage.
May your unclean lips be set ablaze.
Image: Martin French (follow link to view/purchase artwork from Pastor's book)