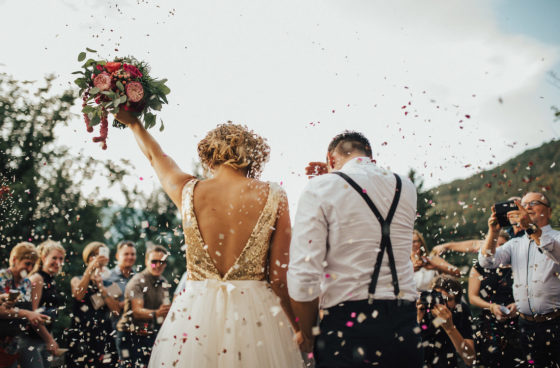 I officiated over a small, private wedding ceremony recently, and will be attending several other wedding ceremonies in the coming months (I will also be going to the a sports stadium in Atlanta in between). While weddings are a significant spiritual event, fewer weddings are taking place inside a church sanctuary. Certainly, God's presence can unite two to become one in any place, but I often worry that making weddings more about the spectacle causes us to miss what the goal of a wedding is.
With wedding season ramping up, I've had some time to reflect on what the goal of a wedding is, or at least in my estimation, should be. I share this with other pastors as a word of advice. I share this with engaged couples as a source of recommendation when deciding on what matters most in their wedding ceremony. I share this with family and friends attending weddings to highlight things that might be easily overlooked in the formality of such a wonderful event.
A Reflection of the Couple
Many ceremonies are similar in that there are several sections, such as the statement of intent, the marriage vows, and the exchange of rings, which have a familiar wording and flow to them. However, from small things such as the choosing of a venue or the invitation list, to bigger things, such as the wording of the marriage vows or whether to do a symbolic activity representing two becoming one, each of these give the couple a chance to show who they are.
As a pastor this means encouraging each couple to consider what Scripture passages hold significance to the couple, it also means getting to know the couple so the words you have to share with them are specifically for them. For couples getting married, make sure you choose a wedding that fits you, not the expectations others have.
A Focus on God's Word
A good wedding ceremony includes a variety of Scripture, not just a token Scripture thrown in by the pastor. I often encourage couples to have a family member read a Scripture passage of significance to them, and I try to include one or two separate passages in my homily to the couple.
This focus on God's Word goes beyond the importance of Scripture to the elevation of Christ as a person of significance in the coming together of husband and wife. Several years ago following a wedding ceremony I officiated over, I had a family member of the bride and groom say to me, "I've never heard the name Jesus said so many times at a wedding." I'm not sure if he was frustrated or joyous, but I took it as a compliment. If a marriage is to succeed it will be to the credit of Christ at work.
A Reminder of What Marriage Actually Is
I know this might be a shock to some but the goal of a wedding ceremony is not exclusively surrounding the bride and groom. Though they are the main characters in the story being told at the ceremony, the announcement of their marriage points to an even greater reality of Christ longing to be one with His bride, the church. Paul speaks to this in Ephesians 5, when after describing the role of a husband and a wife he says, "This is a profound mystery—but I am talking about Christ and the church" (Eph. 5:32).
All that talk about husband and wife and marriage? Paul says it was really highlighting Christ and the church. A good wedding ceremony does this as well, pointing the bride and groom, and their family and friends, to recognize they have an example and foundation for how to love each other (as Christ loved the church) in marriage.
Weddings should be about more than centerpieces, gowns, and seating arrangements because they speak to the divine love God has for us all.
While all wedding ceremonies are different, the best wedding ceremonies present the personality of the couple, focus on God's Word, and provide a reminder of what marriage actually is. These should be the goals of each bride and groom when discussing their wedding ceremony, and they should be the goals those surrounding the couple encourage them to pursue.
Whether you are officiating, getting married, or just attending the wedding of a dear friend, look out for the ways a wedding highlights these goals.