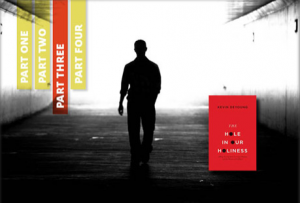 Last week Christianity Today ran an article I wrote reviewing Kevin DeYoung's book titled The Hole in Our Holiness. Kevin wrote a solid book that I would gladly recommend to others. In fact, both he and I come at the subject from a similar perspective: we have lost our desire to seek after holiness.
In my mind DeYoung does a great job of playing to his strengths in the book. He has an adept knowledge of the Bible and theology, and throughout the book he hones in on those areas to draw the reader toward holiness. My concern with the book is that Christians have known the Biblical calling toward holiness and have not heeded it.
Here's the paragraph where I expand on this concern (read the entire article here):
"Where DeYoung may miss the mark is in his target audience. He has in mind to draw younger generations and those falling away from Christ toward a renewed pursuit of holiness, but I wonder if the book's strong theological and biblical tone will be a hindrance for many. This isn't to say a book on holiness should avoid those areas, but the book is closer to a seminary textbook than an easy fiction read. In trying to reach out to those far from God, the book seems to ask the reader to come into the author's world rather than first engaging the subject of holiness from the perspective of the target audience."
A couple days after my book review was posted, DeYoung posted his own response to the article. I've heard from several who thought he came across as defensive in tone. Let me just say that I questioned pieces of his book, but I do not question that DeYoung is sincere in his desire to push us toward holiness. He rightly has reasons for why he wrote the book he did and I appreciated his response. Here's a section of that response:
"Braun's concern is that The Hole in Our Holiness may be too much like 'a seminary textbook' and not do enough to reach out to those far from Christ or falling away from God. He fears I may be too entrenched in a Reformed Christian subculture to relate to outsiders. I suppose all those critiques will hit the mark with some readers. Some people will think the book is too heady. Some people will think it references the Reformed confessions too often. Some people won't feel comfortable handing it out as an evangelistic tool. On the other hand, some people will think I've only skimmed the surface of a very deep topic…I'm not meaning to dismiss Braun's concerns, except to suggest that they strike me as largely personal preferences…"
This conversation really gets at the heart of how we connect those far from God toward the things of God.
DeYoung seems content with speaking from the pulpit. Instead, I'd prefer to see us engaging with the world where those far from God live. It's not as if God is absent there. No, He's just more readily ignored.