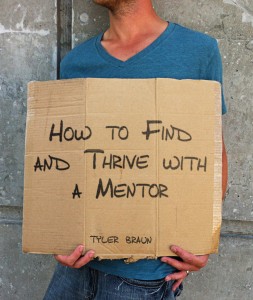 Not long ago I came to a point in my life where I sensed something was missing. I had a wife and a solid marriage that flourished within the dreaded first year of companionship. I had a job that was allowing me to gain experience in the field I pictured myself working in the rest of my life. I had a strong relationship with God that was continuing to grow over time. I also had the opportunity to attend graduate school, and I still found time to serve with a local non-profit a few hours each week.
But despite all these positive things I had going for me, something was missing.
My life had a general sense of direction but no one speaking into the direction. After months of searching for this missing piece I eventually came to realize I needed a mentor.
I wish I could say the story ended there but really that's where it first started. In seeing my need for a mentor I started to pray for one: "God please allow a godly man who I can learn from and spend time with, to come into my life."
My prayer was never answered.
Despite working at a large local church, no man from my church ever approached me about becoming a mentor. Surely, something is missing here. Isn't it the churches job to raise up the younger generations through life on life interaction?
Several years passed but the reality never changed. After waiting for so long it seemed giving up was a better solution than continuing to hope. At points I stopped praying for a mentor because it all seemed pointless. Why pray prayers that surely will never be answered?
But then a random thought came into my head. Why was I waiting instead of asking? Why am I allowing the situation to dictate itself rather than my own actions dictating the situation? If I really wanted a mentor, why am I just waiting for someone to show up?
And so I started to pray about an older man who I could spend time with, in order to build a friendship with him. Sure enough someone immediately came to mind.
I bit the bullet. I humbled myself. I trembled at the knees. But I asked. "Will you mentor me?" I can think of few questions that hold more power for the future.
All through your life God uses people to influence and shape you.
A mentor is intentionally involved in your life to help you move from a melancholy existence in the mundane, toward a life of significance.
A mentor has the power to change your life. Part of who they are slowly becomes part of who you are through your interaction with them.
I've been working to put together a resource that will help you find a mentor, and help mentors and mentees better navigate their relationship. I'm excited to share it with you!

—
If you don't have a Kindle, don't worry, you can read Kindle books on your PC or your Mac.
Here's your chance to win a copy of the book. I'm giving away 25 copies. There's 3 ways to get entered into the drawing (by doing all 3 you increase your odds): (All the copies have been given away)
Comment on this post on why you want a mentor, or share what difference a mentor has made in your life (I'm looking forward to reading these comments!).
Share about the book on Facebook, or Like this post (sharing buttons are on the left side of this page).
Tweet about the book (click here to Tweet, use the hashtag #MentoringBook).
I'll track the FB shares and tweets so no one gets missed.
The drawing will conclude on Friday morning (January 11th) at 10am EST.
Looking forward to sharing this book—on a topic I'm so passionate about—with you.
PS. If you'd like to read more about this subject, check out this article I wrote for Relevant Magazine on mentoring.