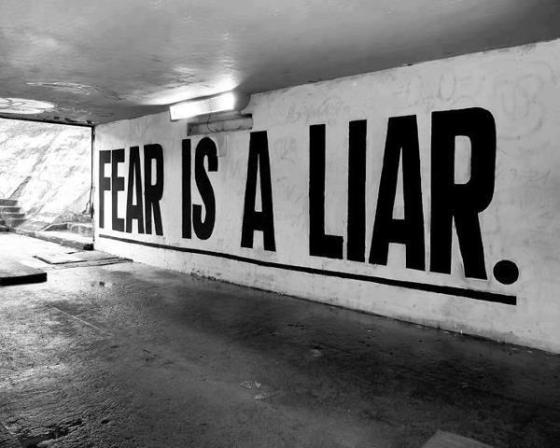 "Therefore, we will not fear."
These are the words of the Psalmist in Psalm 46.
Fear is standard protocol today. Politicians leverage fear in order to gain support. Pastors preach fear through the impending doom of hell. Fear mongering has become an artform, easily disguised in our age of individual expression where nothing seems to be a surprise or a shock.
North Korean satellites, ISIS invading another town, Christians murdered, stock market crashing, homicide rates rising. Just imagine how awful it will be in 5 more years? Or so the line goes. All these headlines and more, stoke the fires of fear. And this fear compounds upon itself when another issue arises.
Too often Christians buy into this fear, creating their own Doomsday Theology, "everything is going to hell in a hand basket," they say. When Christian faith gets sandwiched between political ideology or business pursuits or family affairs, the Christian gets lost in the drama of unrealized hope.
This fear mongering is never worse than in the lead up to an election. Each supposed side pointing to the other, "just think of the horror that will ensue for the next 4 years if the fearful comes true?!?! Vote me."
In times where fear is used as a weapon to attack, and when fear causes you to wonder whether life is a slow trickle down into hell on earth, Christians need to read Psalm 46. And so here it is, the NIV translation, to remind yourself that fear has nothing to do with the God of the Bible, and should not be part of the Christian's countenance. Fear is a liar.
—Psalm 46—
God is our refuge and strength,
    an ever-present help in trouble.
Therefore we will not fear, though the earth give way
    and the mountains fall into the heart of the sea,
though its waters roar and foam
    and the mountains quake with their surging.
There is a river whose streams make glad the city of God,
    the holy place where the Most High dwells.
God is within her, she will not fall;
    God will help her at break of day.
Nations are in uproar, kingdoms fall;
    he lifts his voice, the earth melts.
The Lord Almighty is with us;
    the God of Jacob is our fortress.
Come and see what the Lord has done,
    the desolations he has brought on the earth.
He makes wars cease
    to the ends of the earth.
He breaks the bow and shatters the spear;
    he burns the shields with fire.
He says, "Be still, and know that I am God;
    I will be exalted among the nations,
    I will be exalted in the earth."
The Lord Almighty is with us;
    the God of Jacob is our fortress.